Inventory Up, Sales Down in 2022
Posted by James McCallion on Thursday, January 19, 2023 at 12:09:23 PM
By James McCallion / January 19, 2023
Comment
Unless you're a "numbers nerd" like I am, you might find real estate market statistics rather bland. They can even be confusing without explanation. So, in this year-end real estate market overview, I've included pretty infographics courtesy of Florida Realtors® and an explanation of what each stat means.
The data includes the Cape Coral - Fort Myers Metropolitan Statistical Area (MSA) outlined below.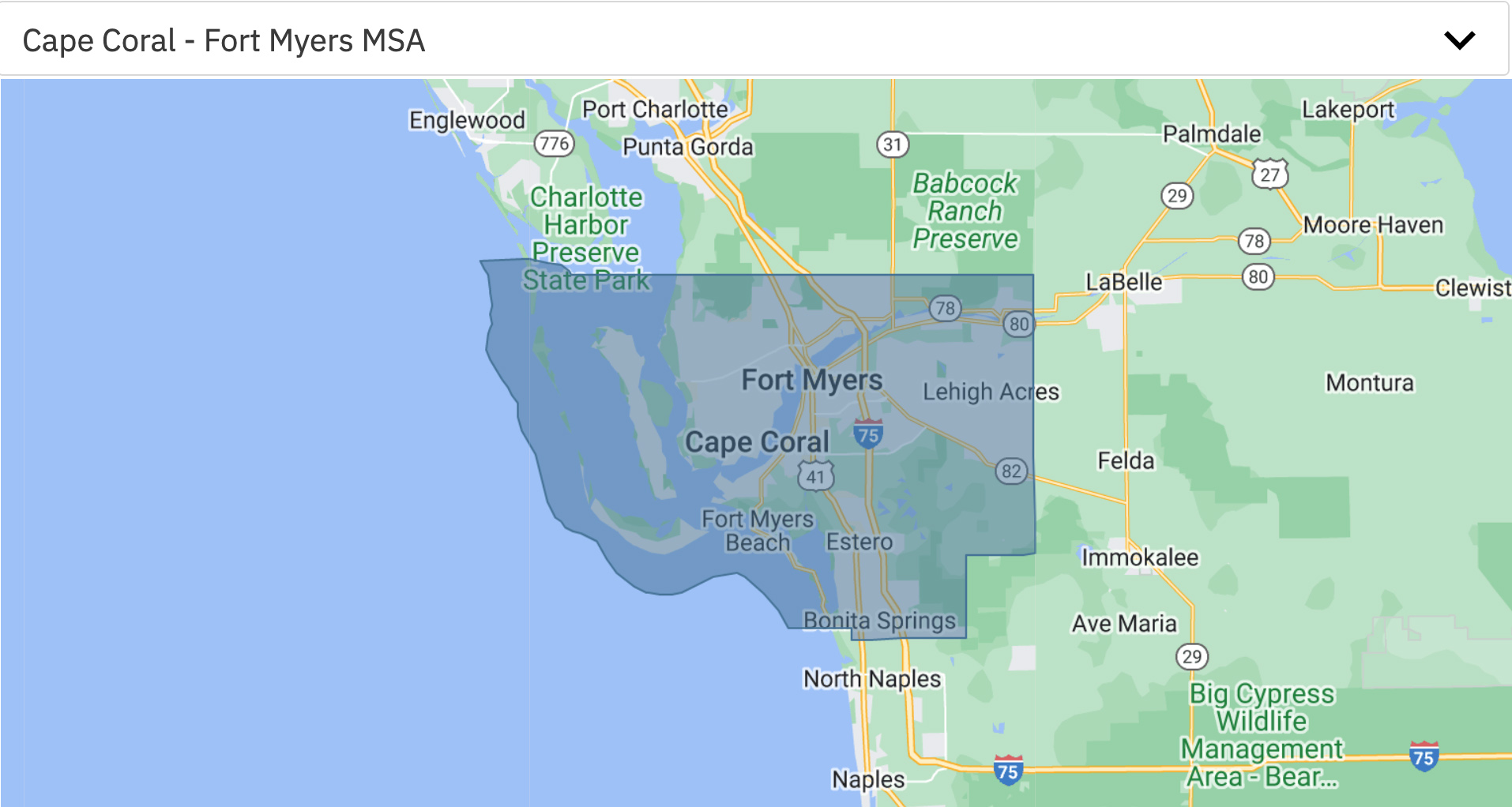 2022 SWFL Single-Family Home Sales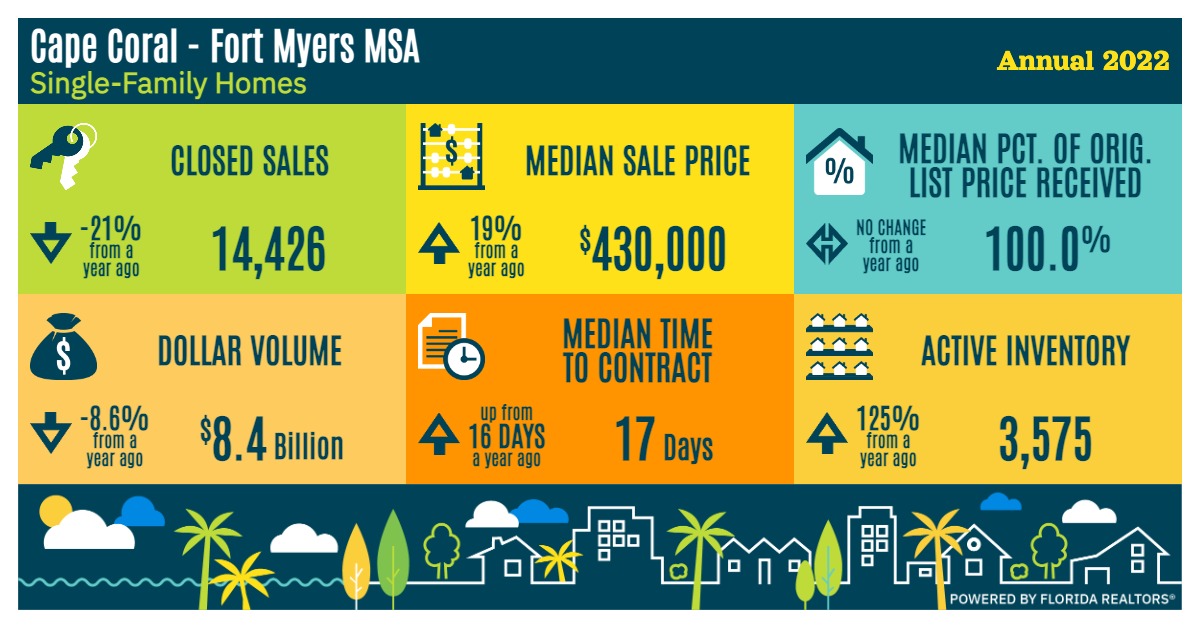 The first three stats explained...

Closed sales: The number of sales transactions that closed during that time period
Economists' note: Closed Sales are one of the simplest—yet most important—indicators for the residential real estate market. When comparing Closed Sales across markets of different sizes, we recommend comparing the percent changes in sales rather than the number of sales. Closed Sales (and many other market metrics) are affected by seasonal cycles, so actual trends are more accurately represented by year-over-year changes (i.e. comparing a month's sales to the amount of sales in the same month in the previous year), rather than changes from one month to the next.
Median sale price: The median sale price reported for that time period (i.e. 50% of sales were above and 50% of sales were below)
Economists' note: Median Sale Price is our preferred summary statistic for price activity because, unlike Average Sale Price, Median Sale Price is not sensitive to high sale prices for small numbers of homes that may not be characteristic of the market area. Keep in mind that median price trends over time are not always solely caused by changes in the general value of local real estate. Median sale price only reflects the values of the homes that sold each month, and the mix of the types of homes that sell can change over time.
Median percent of original list price received: The median of the sale price (as a percentage of the original list price) across all properties sold during that time period
Economists' note: The Median Percent of Original List Price Received is useful as an indicator of market recovery, since it typically rises as buyers realize that the market may be moving away from them and they need to match the selling price (or better it) in order to get a contract on the house. This is usually the last measure to indicate a market has shifted from down to up, so it is what we would call a lagging indicator.
2022 SWFL Condos & Townhome Sales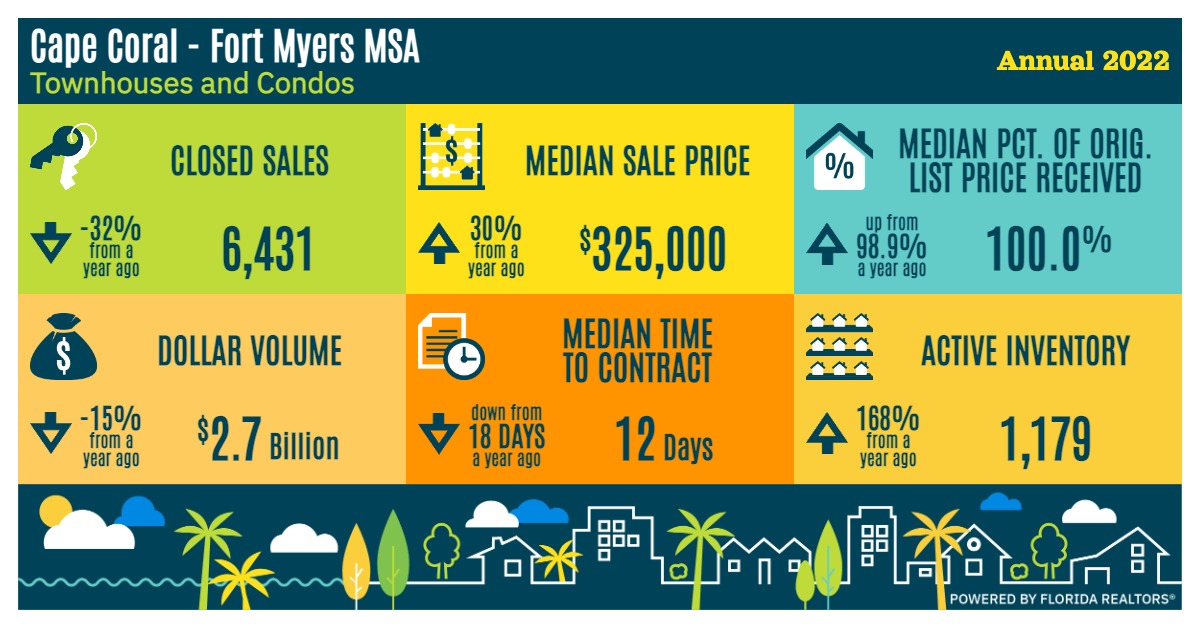 The bottom three stats explained...

Dollar volume: The sum of the sale prices for all sales which closed during that time period
Economists' note: Dollar Volume is simply the sum of all sale prices in a given time period, and can quickly be calculated by multiplying Closed Sales by Average Sale Price. It is a strong indicator of the health of the real estate industry in a market, and is of particular interest to real estate professionals, investors, analysts, and government agencies. Potential home sellers and home buyers, on the other hand, will likely be better served by paying attention to trends in the two components of Dollar Volume (i.e. sales and prices) individually.
Median time to contract: The median number of days between the listing date and contract date for all Closed Sales during that time period
Economists' note: Time to Contract measures the number of days between the initial listing of a property and the signing of the contract which eventually led to the closing of the sale. When the gap between Median Time to Contract and Median Time to Sale grows, it is usually a sign of longer closing times and/or declining numbers of cash sales.
Inventory (active listings): The number of property listings active at the end of the time period
Economists' note: There are a number of ways to define and calculate Inventory. Our method is to simply count the number of active listings on the last day of the month, and hold this number to compare with the same month the following year. Inventory rises when New Listings are outpacing the number of listings that go off-market (regardless of whether they actually sell). Likewise, it falls when New Listings aren't keeping up with the rate at which homes are going off-market.
2021 Year-End Infographics
In case you're curious, below we've included the same statistics for year-end 2021.
2021 Year-End Stats - Single-Family Homes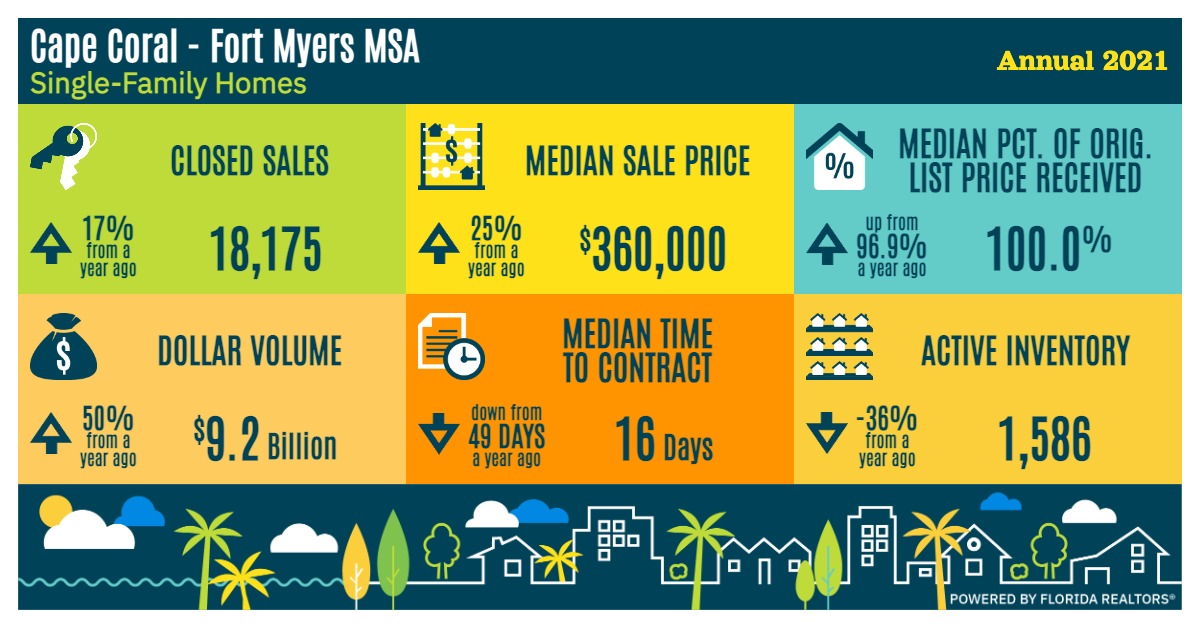 2021 Year-End Stats - Condos & Townhomes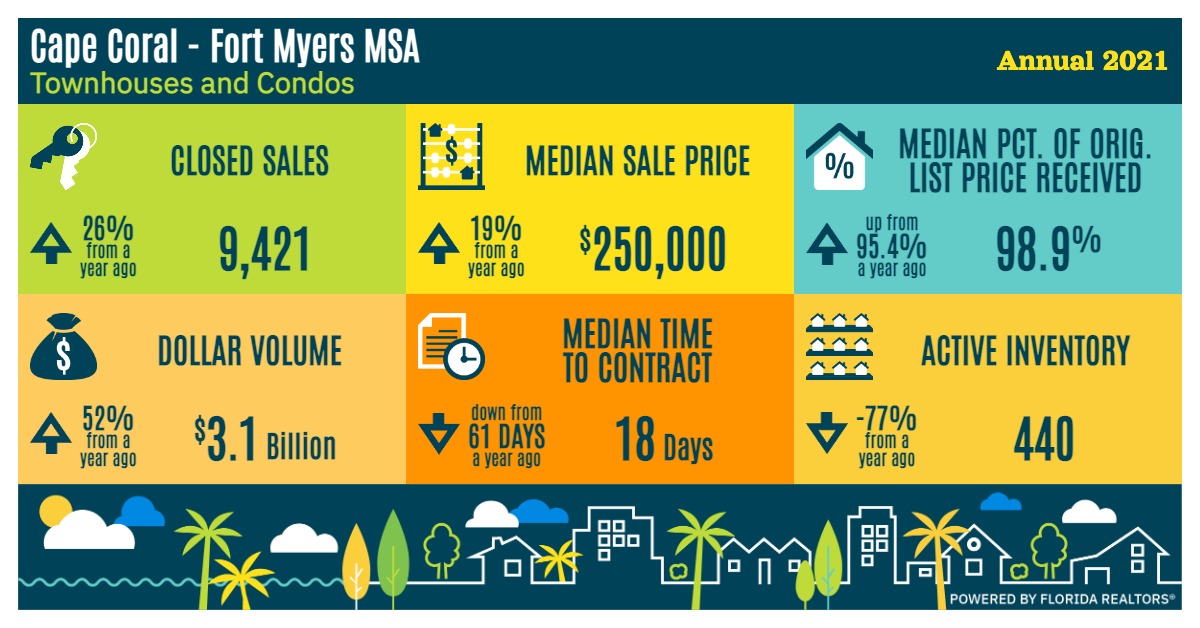 In-Depth Market Stats
As you can imagine, there is a lot of variation within the entire Cape Coral - Fort Myers MSA. If you're looking for more specific market data, please don't hesitate to reach out. I'm happy to hone in on a certain area, property type, or even price point. Remember, I'm a numbers nerd!
You can reach us at [email protected] or 239-472-1950.