7 Splashing Trends in Bathroom Renovations
Posted by James McCallion on Saturday, May 28, 2016 at 3:21 PM
By James McCallion / May 28, 2016
Comment
Splish Splash lets update your bath! We've all experienced those out-of-date bathrooms with the pink "porcelain throne" and matching pink sink that are perfectly accented with blue and white tiles, or topped off with floral wallpaper. Yikes! Besides kitchens, bathrooms are one of the first rooms in your home to get "out-dated."

While it's not vital to update your bathroom with every new trending style... if you still have the original bathroom appliances from 1960, it might be time for an update! To get you started, here are 7 splashing bathroom trends making waves this year.


#1. Choose A Soothing Color
Paint is one of the easiest updates you can make to any room, and is often one of the first suggestions for any renovation project. This year, we've seen neutral earth tones mixed with a pop of pastel color, which brighten bathrooms and create the perfect ambiance for soaking in the suds.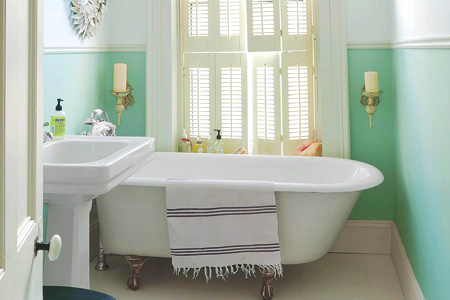 #2. Get Funky With Tile
Don't settle for just any regular 'ol tile. Let your inner creativity shine! You can create stylish patterns by zigzagging or irregularly laying your tile pieces together to form a unique pattern along the bathroom floor or shower wall. If you're feeling really funky, you can intersperse a few colored tiles for a fun and artistic splash of color.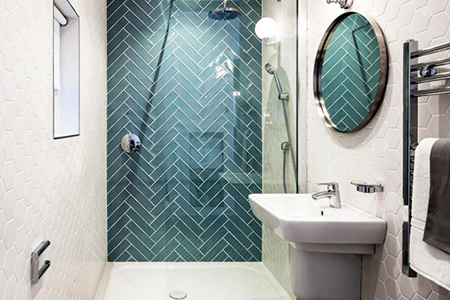 #3. Use Wood
Wood has found its way into the bathroom, with new trends featuring teak, bamboo, and laminate flooring. The trends aren't stopping at the ground-level, in fact, some designers are using wood on the walls, cabinets, and, yes, even the ceiling. This isn't your old-school 1960's wood-paneling we're talking about…. Check it out for yourself.



#4. Use More Wood
Since we're on the topic, some have incorporated "wood" in a whole new way. Have you heard of duckboard flooring? Apparently it's no longer just used for boats and saunas. These beautiful and bold wood slates are popping up in modern, trendy bathrooms across the country.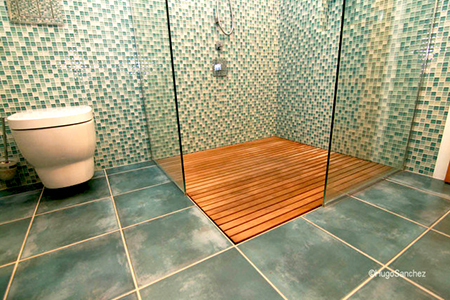 #5. Have Multiple Shower Heads
This has been trending for a while now, the use of multiple showerheads. The "rainfall" showerhead is still "in," however, it's not enough to just have one. Now, we're seeing homeowners and designers include an additional hand-held shower head option, or multiple showerheads along the walls for a full-body wash cycle. Yes, just like a car wash, except no squeegee.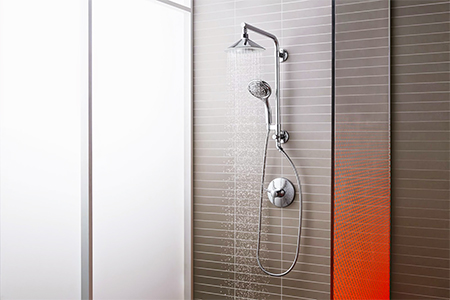 #6. Create Clean Countertops
We're not saying your bathroom isn't clean - but it's becoming more popular to stow away as many bathroom toiletry items as possible. Clean, simple sink counters are desirable not just for homeseller's with their house on the market, but for everyday family use as well. When you think about it, it's probably more sanitary to keep your toiletries in a medicine cabinet, which offers some protection from other bathroom germs.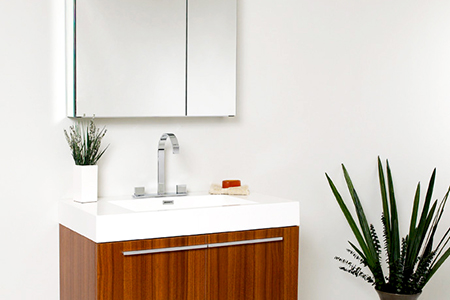 #7. Incorporate White
If you're replacing those out-dated pink or aqua porcelain sinks, tubs and toilets, you should look into new white bathroom fixtures as an option. We know, white is scary in that it shows every hint of dirtiness possible. However, white fixtures will certainly add to the clean and simple updated look you've created with the tips listed above.