Driving Tour of Southwest Florida
Posted by James McCallion on Saturday, November 21, 2015 at 4:30 PM
By James McCallion / November 21, 2015
Comment
Last week, we had family from up north come down to visit the sunshine state. It was our mission to show them the best of Southwest Florida, from the beaches to the shopping centers and attractions. As you may have already discovered, each city and town in Southwest Florida (SWFL) is unique to the next. From Fort Myers to Marco Island and everything in between, there is a wide range of people and lifestyles that make up SWFL.
If you have family coming in town soon, or if you have yet to explore all that there is to offer, here's a Driving Tour of Southwest Florida to guide your expedition!
Starting in Fort Myers, we head downtown to what's known as the "River District." With old brick roads and old brick buildings, you immediately sense the rich history of the area. While strolling along the side walks, stop for morning coffee at one of the local cafes or the Starbucks on the corner. If you find yourself there at lunch time, you have to try a famous burger from Ford's Garage, or grab a slice of cheesy goodness from Capone's Coal Fired Pizza. Don't worry, you can walk off some calories as you head north a block to see why it's called the "River District"... because of the vibrant Caloosahatchee River! You have to check out the Fort Myers City Pier and Yacht Basin. The boats and views of the river flowing under the tall Edison Bridge is one of the best sights of Fort Myers.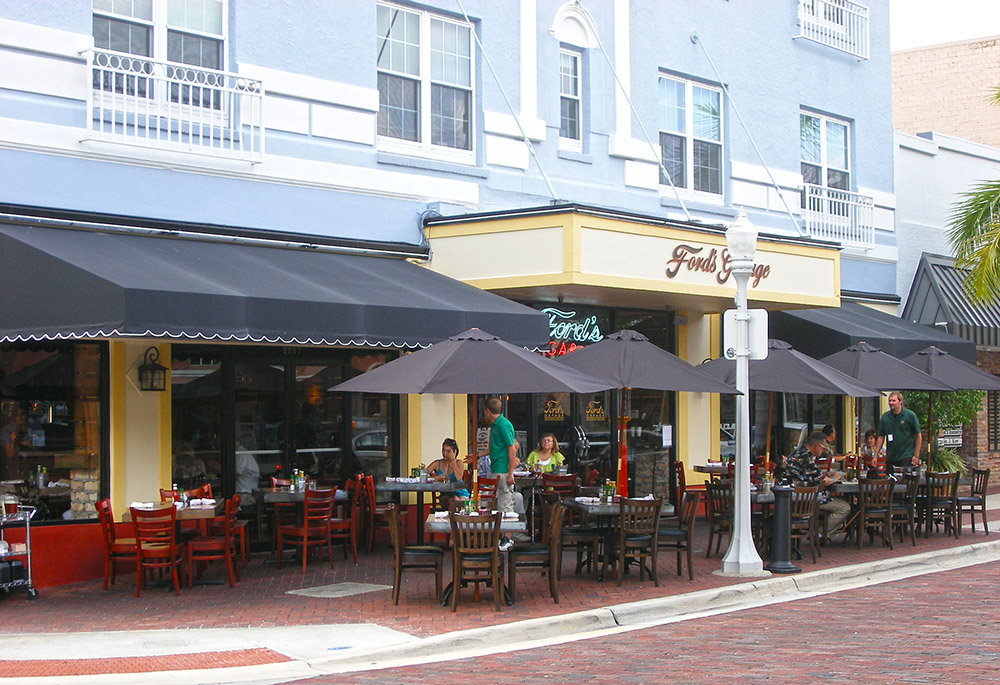 Ford's Garage in Downtown Fort Myers
Hop back in the car and head west over to McGregor Boulevard. Ever wonder why they call Fort Myers The City of Palms? Well, driving down McGregor Blvd. will answer this for you. Tall Royal Palm Trees line both sides of the two lane highway, which hugs the water line of the Caloosahatchee River. Take your time driving along McGregor Blvd., making sure you don't miss the Winter Estates of Thomas Edison and Henry Ford. Yes, that's why the area is filled with restaurants and street names after these two prominent men of American history. Like many northerners, these two flocked south for warmer weather during the winter months. If you haven't toured their properties, you have to visit the beautiful gardens and historic homesites one day when you have more time. There's fun for the whole family, from the museum of inventions to the garage of old Ford cars.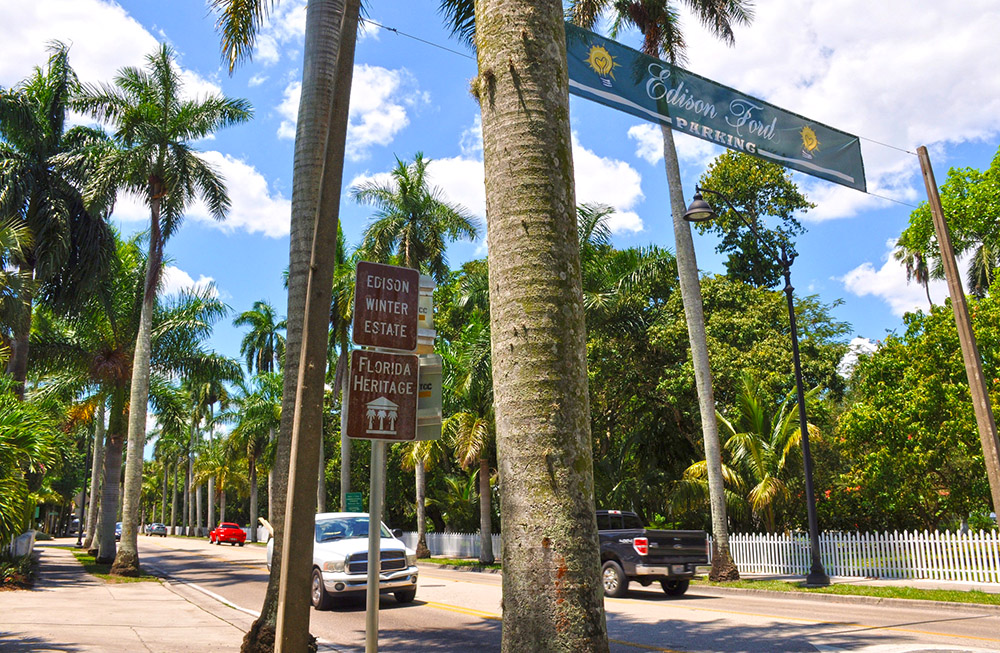 McGregor Boulevard near the Edison and Ford Winter Estates
You can easily spend an entire day in Fort Myers or any of the cities in Southwest Florida, but to move this trip along... let's head south on McGregor until we get to the Midpoint Bridge. Crossing over the Caloosahatchee River, you get a feel for just how wide this body of water is. Now we're in Cape Coral! (Note, there is a toll to cross into Cape Coral from either the Midpoint or Cape Coral Bridge). This area, which locals refer to as "The Cape," is a growing city of SWFL. We'll head south along the river to where it connects to the Pine Island Sound and San Carlos Bay. Cape is divided into quadrants of NW, NE, SW, SE. As we head SE, you can see some "old florida" style homes - almost all of them having canal access to the river. New condo complex's, quant shopping and upscale hotels have landed in SW Cape, creating a nice downtown area perfect for relaxing afternoon stroll along the river.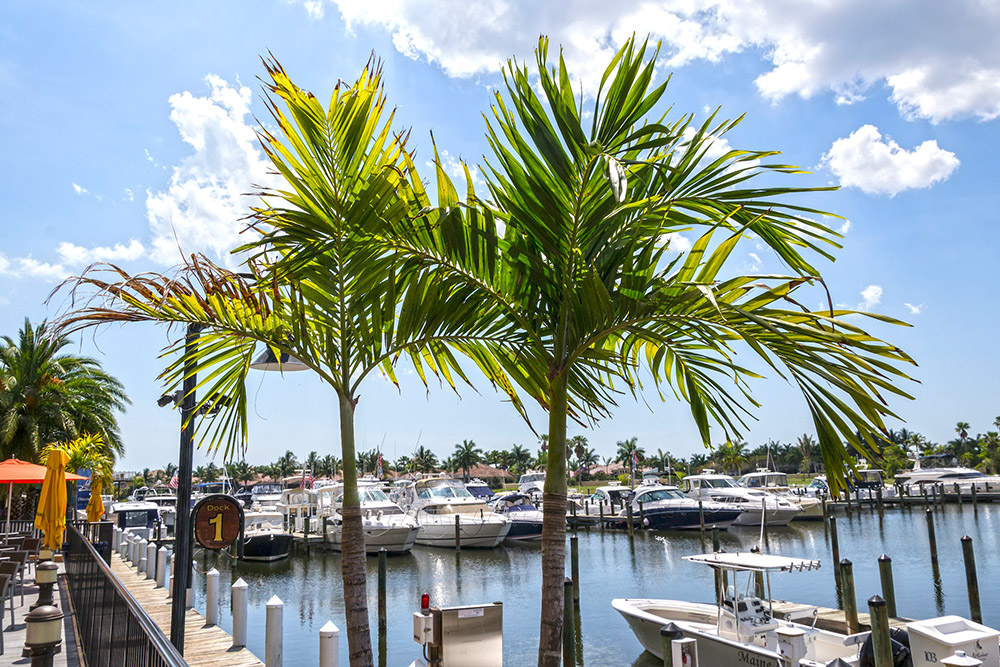 Downtown Cape Coral
Grab a pick-me-up "cup of Joe" before heading back over to McGregor via the Cape Coral Bridge. Following McGregor Blvd all the way down, you'll eventually reach the Causeway bridge to Sanibel Island. Sanibel is the shell capital of the world, a barrier island that runs perpendicular to the mainland. Sanibel was incorporated in 1974 as a sanctuary island that is very protective of nature and wildlife's natural habitat. A drive through J.N. Ding Darling National Wildlife Refuge will give you an idea of the island's persona and love for wildlife. Continuing up Sanibel Captiva Road (known as SanCap Road), you'll notice miles and miles of bike paths with walkers, joggers and bikers taking advantage of the beautiful sights and sounds of island. Eventually, you'll reach Blind Pass, a small crossover onto Sanibel's sister island, Captiva.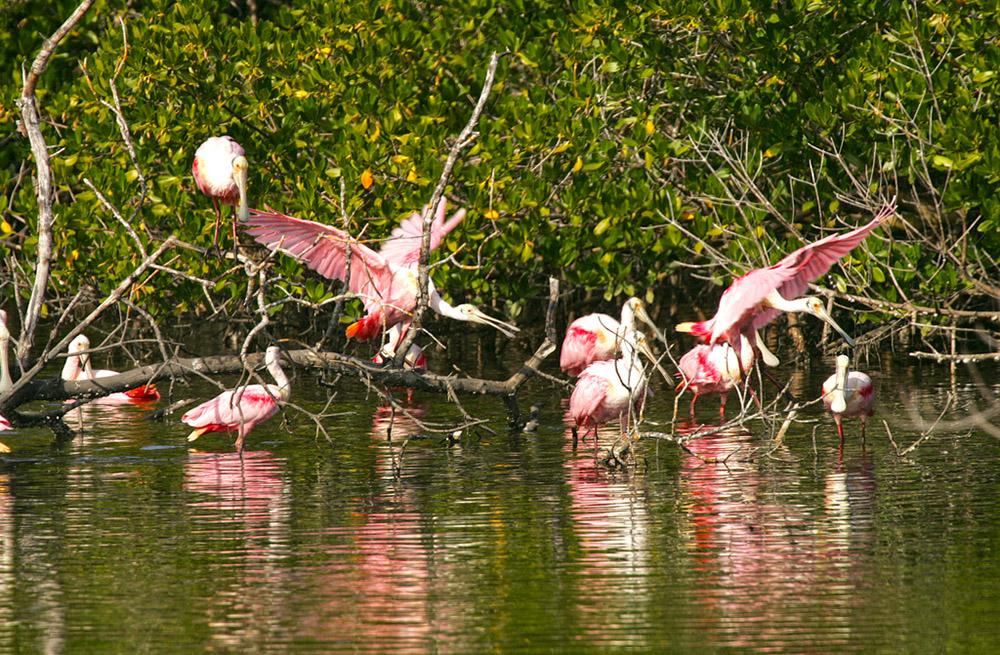 J.N. Ding Darling National Wildlife Refuge on Sanibel Island
Captiva is a bit smaller than Sanibel, you'll notice the roads tighten and trees hover above you as you drive. The homes are tucked away in the lush vegetation, but every now and then you get a glimpse at some of the high-dollar homes lining the Gulf waters. You'll pass Tween Waters Inn Island Resort and eventually hit a dead end at South Seas Resort. If you have time to drive through these resorts, you'll be taken aback by the stunning water views and amenities offered for residents and guests. If you are in need of good dessert, make it a point to stop at The Bubble Room, a festive spot that has award-winning food and desserts. Head back over to Sanibel before it gets dark, and you can stop on the Causeway to watch the sun set behind Sanibel or Pine Island, depending on the time of year.


---
This might be a good point to break for the day, and continue the driving tour of SWFL tomorrow. But for the troopers looking to do it all in one day... we continue back to the mainland, taking Summerlin Road until we see signs for Fort Myers Beach. That's right, now we're island hopping. You'll take San Carlos Blvd. until you reach the Matanzas Pass Bridge taking you into lively Fort Myers Beach. There's a big difference from Sanibel to Fort Myers Beach (FMB), both are busy with people in the winter months, but FMB has a lot of activity around the bars and restaurants on the east end of town. As you drive west, you'll notice it gets less congested and more residential. More old Florida style beach homes and condos line the bayside and Gulf side of Estero Island. Wind around the main road, Estero Blvd., and you will come out at Lovers Key State Park, a great area for fishing or escaping the businesses of the roads.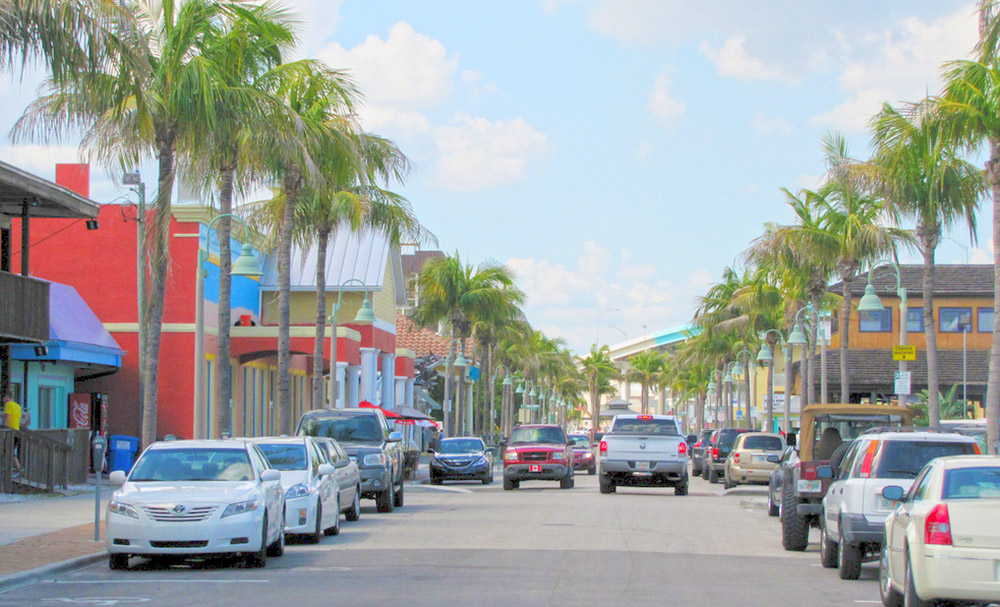 Lively Fort Myers Beach
Continuing across, you enter Bonita Springs, FL where you'll drive through Big Hickory Island (which really isn't that big compared to the other islands you've driven today), and eventually run into Barefoot Beach where the line between Lee County and Collier County runs across. Bonita is a quiet area that, much like the rest of SWFL, is experiencing expansion and renovations. Some of the Old Florida homes are being modernized, and new shopping centers are popping up along the main drag, Bonita Beach Road. Lets take this road until we hit U.S. Highway 41, also known as Tamiami Trail (the road that will actually take you all the way from Tampa, over to Miami). We'll get off on Immokalee Road and head west back towards the Gulf of Mexico.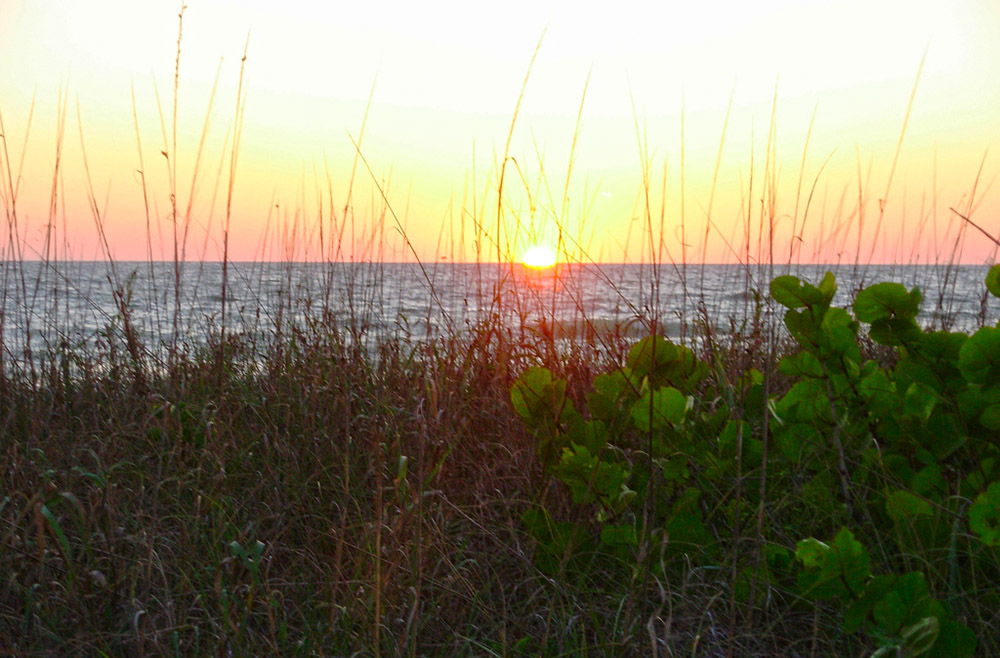 Barefoot Beach in Bonita Springs
This area is known as North Naples, where Delnor-Wiggins State Park is separated from the Barefoot Beach preserve of Bonita Springs by a small river known as the Cocohatchee (Yes, it sounds a lot like Caloosahatchee River, but it's not the same). Heading south on Gulf Shore Drive, you'll pass by Vanderbilt Beach, aligned with tall condos and a few Gulf-front resort hotels including the Ritz-Carlton of Naples. Here, you can head back to 41 to continue south or cut through the large and lavish Pelican Bay community to the area known as Park Shore. You have to stop at the Village on Venetian Bay for a bit to eat at one of the upscale waterfront restaurants or to stroll along and take in the sights of the mini replica of Venice, Italy.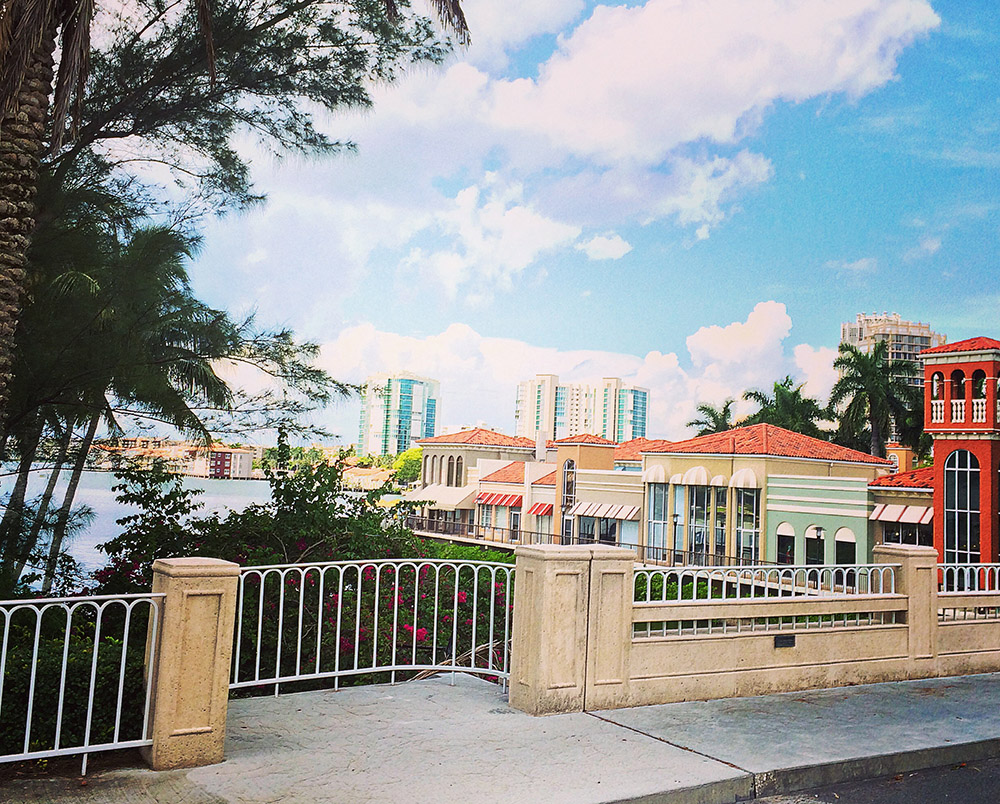 Village at Venetian Bay in Naples
Back south we go, as we drive along Gulf Shore Blvd. and marvel at the extravagant old Naples homes on every street corner. If you're feeling really fancy, take a drive into Port Royal, or better yet, do a dinner cruise on the Naples Princess and see these waterfront mansions from another perspective. You immediately realize that your not in Bonita, Fort Myers or Sanibel any more! While in Naples, you should take a stroll down 3rd Street South or 5th Avenue to experience the boutique shops and restaurants along the way. Stop in at Tin City on your way out of Naples for a fun shopping experience in the old fish shacks of naples that are topped with tin roofs (hence the name Tin City).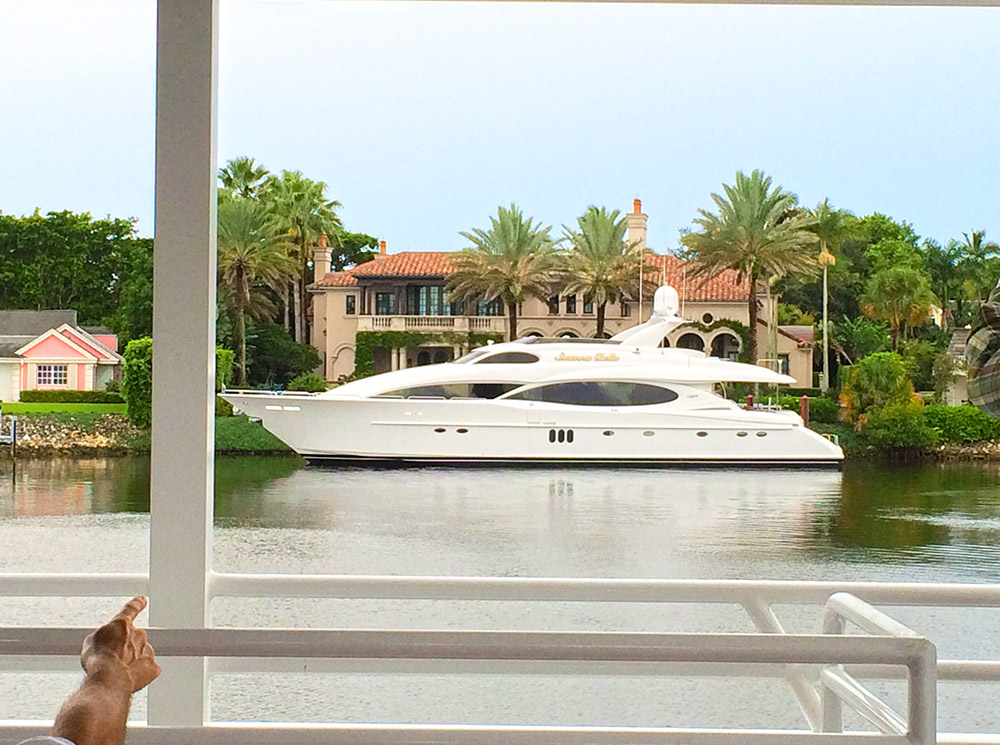 Homes in Port Royal viewed from the Naples Princess
If you're feeling up to it, you've not seen all of Southwest Florida until you head over to Marco Island. Don't worry this will be our last stop! Pop back over to U.S. 41 and head south on Collier Blvd. until you cross over onto Marco Island. You can make one big loop on Marco Island and see that there are tons of canal homes with Gulf access - a boater and fisherman's dream town. Stop at one of the large hotels or waterfront restaurants for a nice dinner, and enjoy a night walk along the miles of white sandy beaches on the island. Better yet, kick off your sandals and relax by the water, it's been a long driving tour of Southwest Florida but you finished it!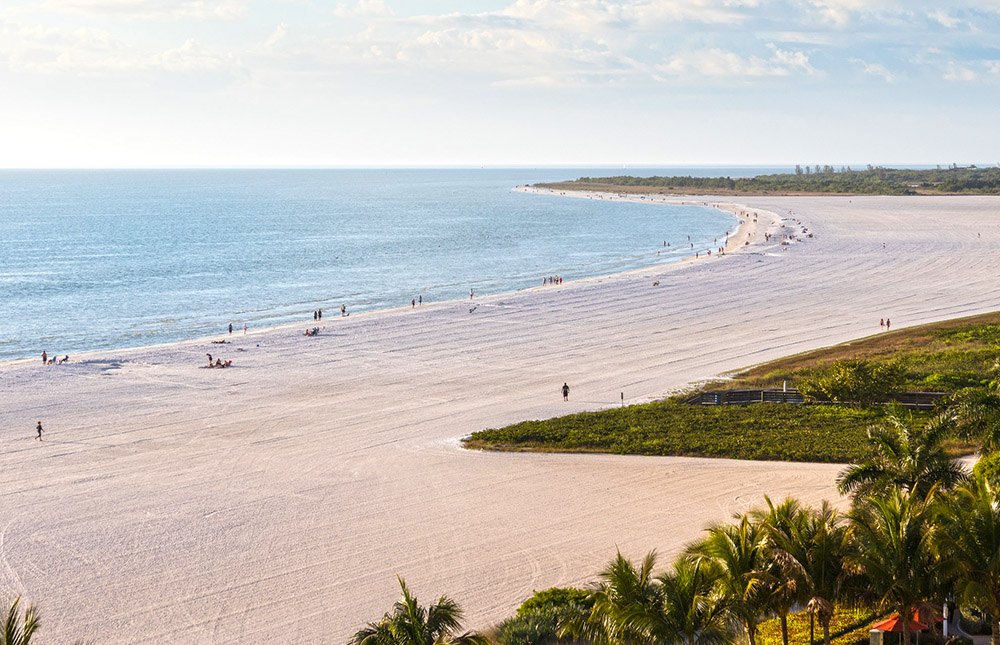 The wide beaches of Marco Island
We'd love to hear your favorite part. Contact us to tell us which cities you enjoyed and which you think would be the perfect home for you. We're happy to help familiarize you with the areas and find the perfect match for you.