Exterior Projects That Net You Cash
Posted by Susan McCallion on Saturday, September 29, 2018 at 1:06 PM
By Susan McCallion / September 29, 2018
Comment
The National Association of Realtors® just published its 2018 Remodeling Impact Report for Outdoor Features. What's this mean for you? Well, they summarized it with the pretty infographic below that helps homeowners like you figure out where to best invest your dollars in remodeling.
The report dives into the common exterior projects that homeowners undergo to improve their curb appeal. Three surveys were conducted to determine the value of outdoor projects, the estimated costs for each project, and homeowner's happiness with the completed projects.
The graphic below ranks the projects in order of the highest ROI. The estimated cost came from the survey results of 456 members of the National Association of Landscape Professionals. The estimated value/cost recovered came from the survey results of 72,674 members of the National Association of Realtors® who sell residential real estate in the U.S.
Exterior Projects That Net You Cash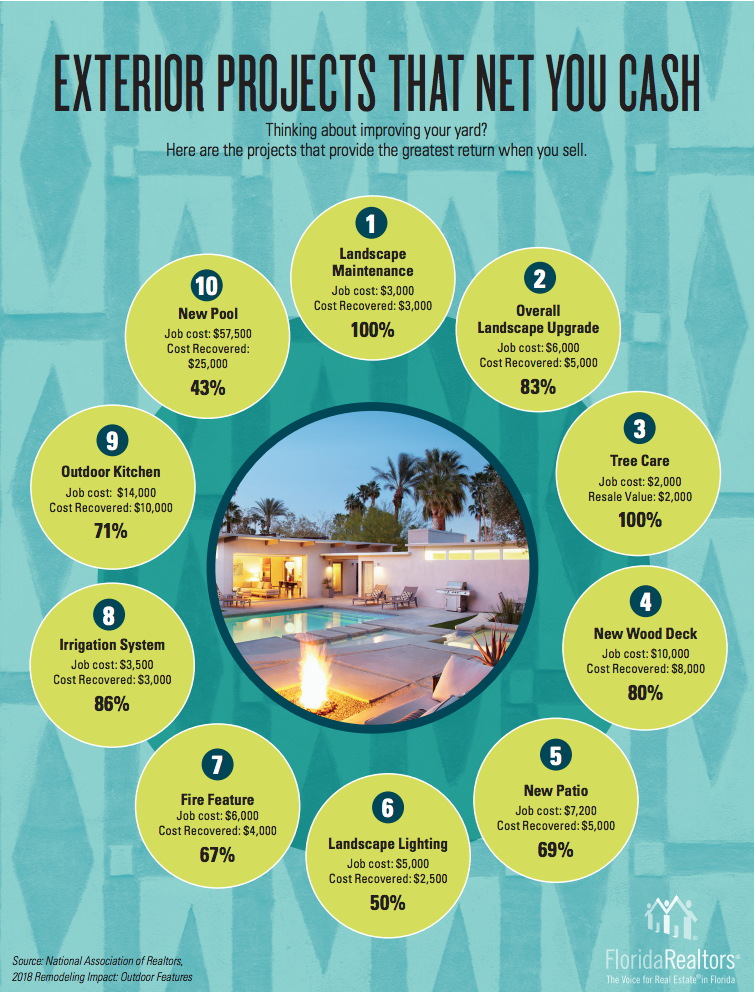 Projects Ranked By Resale:
Realtors® ranked the following projects in order of added value for resale:
#1. Landscape Maintenance
Includes routine maintenance such as annual mulching, consistent mowing, pruning, and planting about 60 perennial or annual plants


#2. Overall Landscape Upgrades
Includes upgrade projects like installing a front walkway of natural flagstone, adding stone planters, flowering shrubs, mulch with bark, and a 15-ft tree


#3. Standard Lawn Care
Includes six applications of fertilizer and weed control on the average size lawn of 2,835 Sqft


#4. New Patio
Includes the installation of a backyard patio about 18'x16'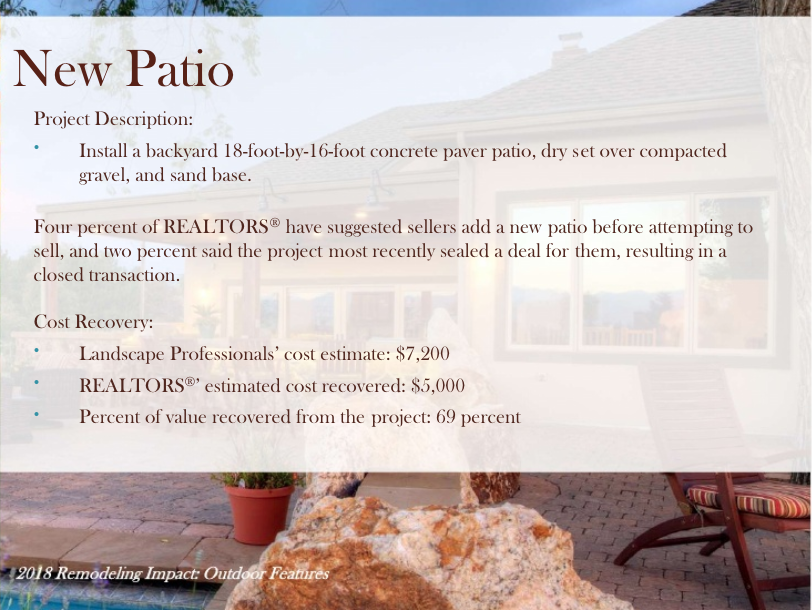 #5. New Wood Deck
Includes an 18'x14' wood deck installed to a house with ledger, decking railing and stairs in cedar


#6. Tree Care
Includes three applications of tree fertilizer, regular spraying and trimming, and the removal of one 30-ft tree


#7. Landscape Lighting
Includes the installation of a 600w transformer and 20 LED lights


#8. Statement Landscape
Includes unique features such as a serenity garden, yoga space, croquet or bocce ball courts


#9. Irrigation System
Includes installation and management of irrigation system for the average 2,835 Sqft lawn


#10. Outdoor Kitchen
Includes installation of an inset grill, stainless steel drawers, ice chest, sink and countertop made of masonry stone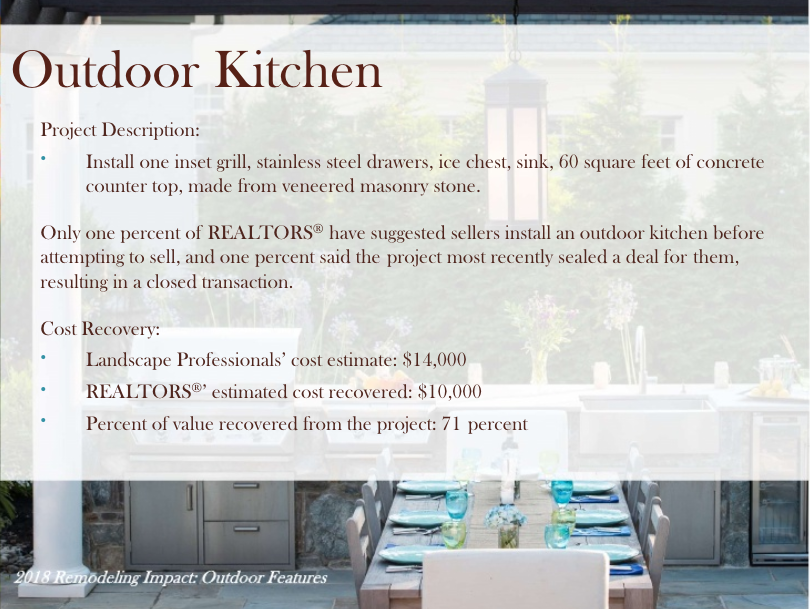 #11. Fire Feature
Includes the installation of dry-stacked stone kits and gas burner for 10' patio


#12. New Pool
Includes installation of a 36'x18' in-ground pool with unite walls, 3'-7' depth, and standard filtration system


What About Florida?
We should point out that these studies cover the entire United States. So, certain upgrades might be more relevant for Florida homes than other locations. Talk to your local Florida Realtor® for their opinion on the report. You might find the answers will be slightly different in ranking which exterior upgrades have a higher ROI here in the sunshine state.