How Has The Market Changed Since 2008?
Posted by James McCallion on Monday, April 11, 2016 at 3:38 PM
By James McCallion / April 11, 2016
Comment
Times, they are a-changing! While cliche, the saying is true for the Real Estate Market, especially here in Southwest Florida. Looking back, we have seen major changes since the downfall in 2008. The market has indeed, bounced back nicely.

Every now and then its good to not only look at how our market's changing month-to-month and year-over-year, but also the long-term trends occurring over a number of years. So, let's take a glance at what's happened in Lee County since 2008 - and to spice it up, we're going to continue our use of "roll-your-eyes" cliche phrases!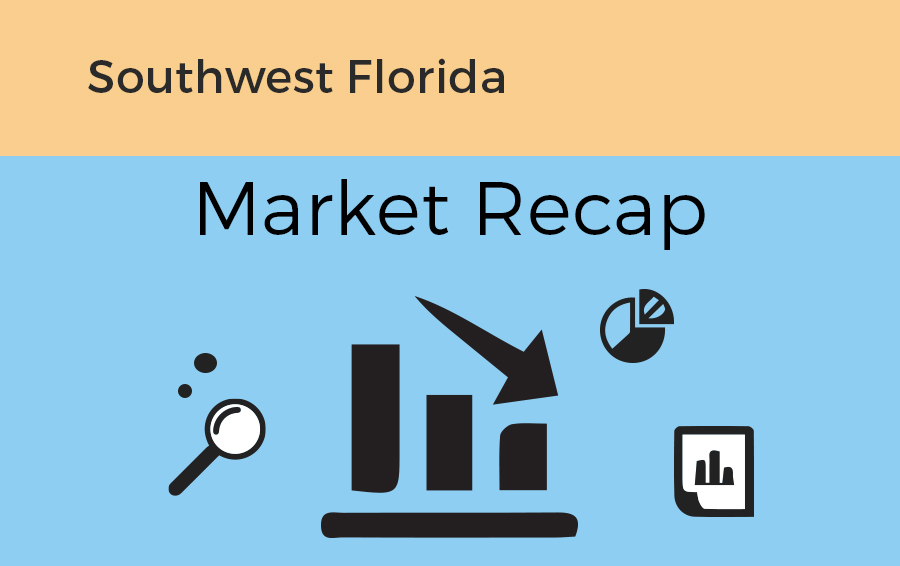 Here We Go!
First, lets talk about the inventory of active homes on the market. Because, there's no time like the present, we'll start with Q1 2016, which admittedly just ended in March - but is close enough to "the present." In Q1 2016, we had an average of 5,732 active single-family homes on the market throughout Lee County.

How does this compare with year's prior? Well, in Q1 2010, just six years ago, there was an average of 12,140 active single family homes throughout Lee County, and in Q1 2008, the average number of active single-family homes was just over 16,700. That's a 66% decrease of active single-family homes in just eight years! But what goes up must come down, right?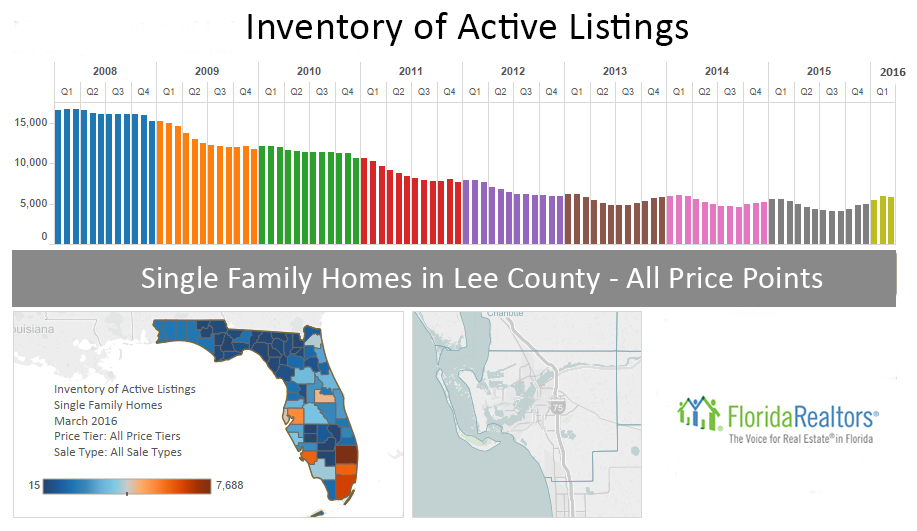 Data courtesy of FloridaRealtors.org



Trending Now: Average Sales Prices Continue to Rise
Moving on, we look at the average sale price of single-family homes in Lee County. Trending Now: Home sale prices continue to rise, with the average sales price of single-family homes in Lee County near $332,685. In particular, January, 2016 saw a major spike with the average sales price around $400,765!

Many are wondering if the market has reached the previous "height of the market" back in 2008/2009. As you can see below, it's close, but just a few thousand dollars difference from Q1 2008 where the average sales price of single-family homes in Lee County was $337,750. We're not sure when, or if the market will surpass this number in the near future, but we've heard that time will tell all things!

The journey upwards has been slow and steady, but since Q1 2010, the average sales prices of single-family homes here in Lee County has more than doubled from $160,677 to now $332,685 in Q1 2016.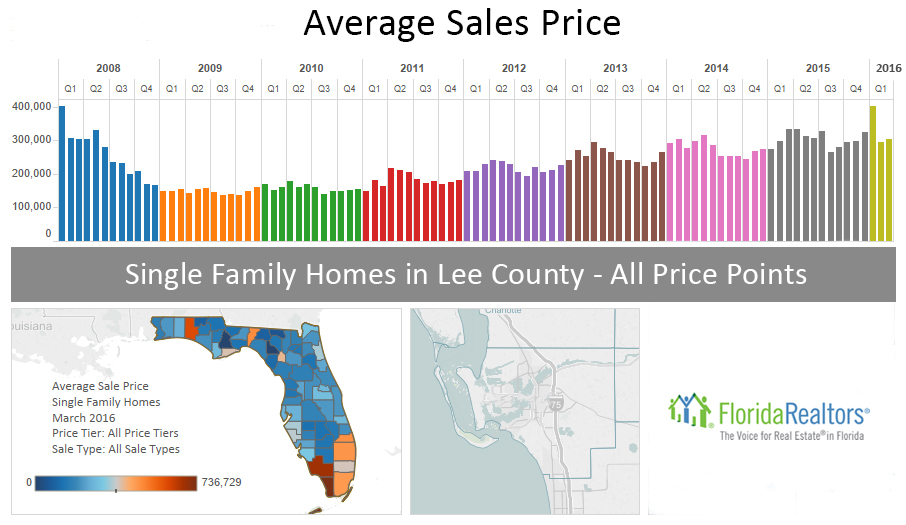 Data courtesy of FloridaRealtors.org


Comparing Counties
Rome wasn't built in a day, but Lee County is growing rapidly. Actually, one of our most recent blog posts mentions that Cape Coral/Fort Myers, FL is the third fastest-growing metro area in the U.S.! Click here to check it out (once your done reading this article of course.)

How does Lee County compare to neighboring counties just North and South of us? Well, to put it in perspective, in Q1 2016 Lee County had more than 2,700 closed sales of single family homes in all price ranges. In the same time frame, Collier County (Naples, Immokalee, Marco Island) closed 1,030 sales of single family homes, and Charlotte County (Port Charlotte, Punta Gorda) had nearly 945 closed sales of single family homes. The chart below shows that the overall trends for these areas have similar "highs and lows," however, Lee County averages a much larger number of sales than Collier County and Charlotte County each year.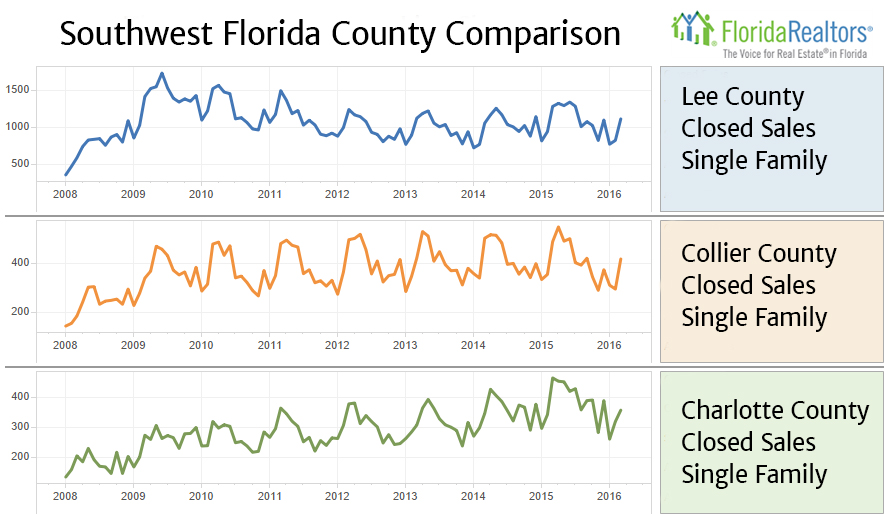 Data courtesy of FloridaRealtors.org