10-Step Checklist - Preparing Your Home For Photos
Posted by James McCallion on Tuesday, August 30, 2022 at 10:28 AM
By James McCallion / August 30, 2022
Comment
There's a lot that goes into listing your home for sale. Preparing for the listing photoshoot is one of the first and biggest steps! To help you get started, we've prepared a 10-Step Checklist for preparing your home's interior for photographs.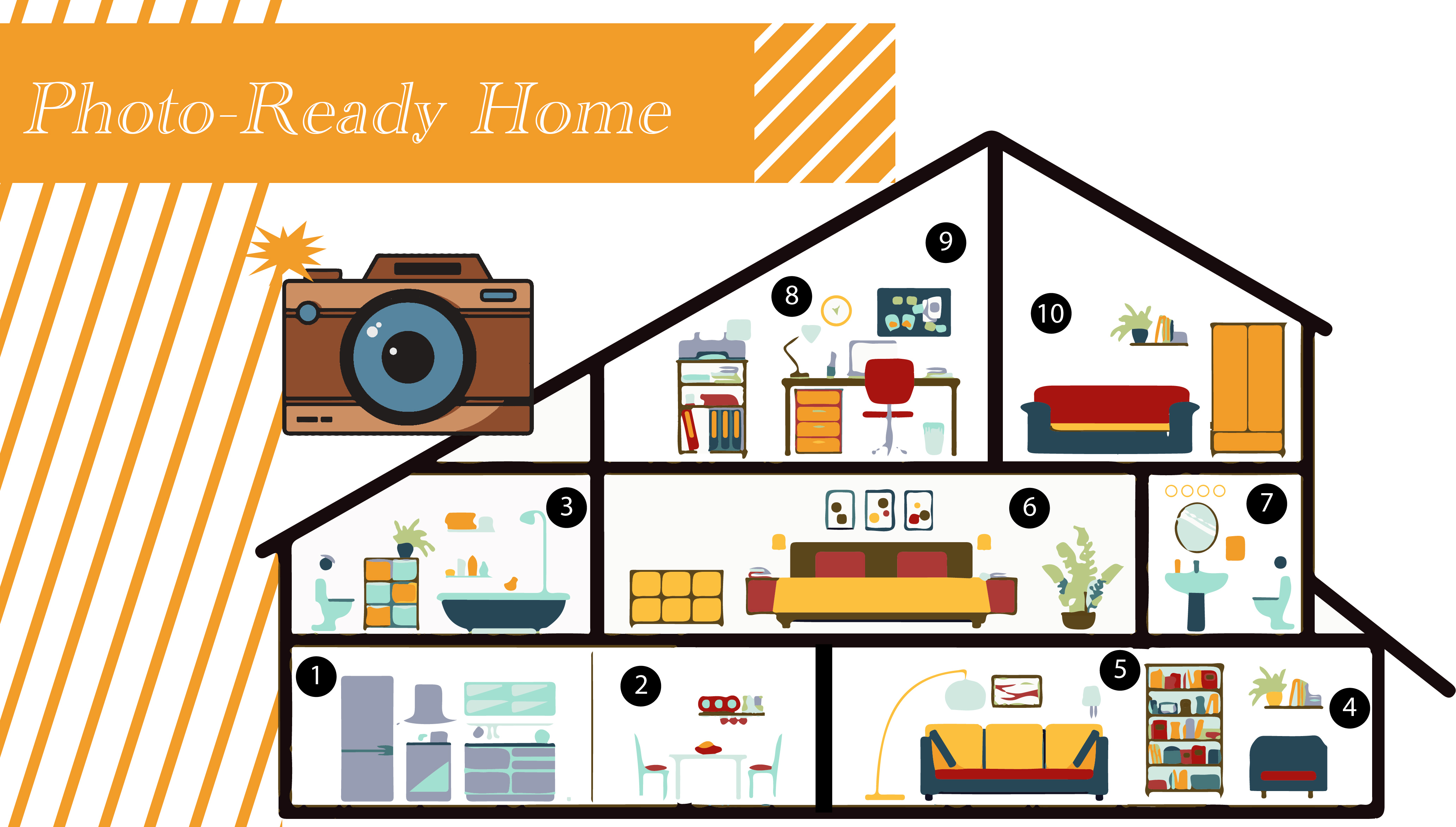 10 Step-Checklist To Prepare Your Home For Photos
#1. Clean & Clear Kitchen Counters
Yes, even the coffee pot should be stowed if possible. The more items you can remove from your kitchen counters, the more counter space potential buyers see.
#2. Set the Dining Room Table
At a minimum, your dining room table should be cleared off with a simple centerpiece in the middle. To take it the extra step, set the table as if you were hosting neighbors and friends over! Stagged table settings create warm and inviting listing photos.
#3. Clear Bathroom Counters & Shower Shelves
We're starting to sound like a broken record, but clean and clear is the name of the game for listing photos! Again, the more counter space pictured, the more spacious a room appears. The last thing you want potential buyers to think is that there won't be enough room for their personal items.
#4. Open Curtains, Shutters and Blinds
Light and bright is the second theme you should strive for with listing photos. Open the window shades to let natural light fill the room. If the photographer decides the lighting isn't right, they will fix the curtains and supplement with external flashes as needed.
#5. Turn Off Tv's
The more you can do ahead of time for the photographer, like turning off TV's and computer screens, the easier their job will be. You want your photographer to focus on capturing your home in the best light, with the best angles and artistic style. You don't want to distract them with having to do chores like turning off appliances and cleaning up the house.
#6. Remove Family Portraits
It's hard for potential buyers to envision themselves in your home when they walk in and see your family beach portraits on the wall above the bed. Any distraction that is too personal will make them feel uncomfortable and also make it hard to focus on the positives of the room. The more personal items you can remove before the photoshoot and showings begin, the better.
#7. Replace Light Bulbs
Nothing is more distracting to the eye than a burnt-out light bulb in a row of lights hanging over the bathroom mirror. It's also important to make sure the lights and lamps in a room all have matching tones, such as all warm white, or cool white, etc.
#8. Turn On The Lights
Here's another task to do before the photographer arrives, turn on all of the lights, and turn off the overhead fans. Sometimes it can take 5-mins for a newcomer to figure out which light switches operate which lights and fans. So, again, the more you can do for the photographer, the more they can focus their creativity.
#9. Remove Trash Pales, Sticky Notes, and Fridge Magnets
Declutter. We know you're proud of the magnets you've collected from every state, but they will be distracting in photos. The same goes for "everyday" house items such as sticky note reminders, trash cans, and mail on the countertop.
#10. Make Beds, Tidy Closets, and Stow Shoes
These sound like no-brainers. But it's worth watching a YouTube video on how to properly make your bed for photographs. You might be surprised at how the results vary from your everyday routine. While we don't typically take photographs of your closet, if it has amazing built-in shelving and is tidy, that's a bonus shot that buyers will love!
More Specific Instructions
Of course, these are general checklist items that apply to most homes. When we walk through your property before photos, we will point out more specific requests that pertain to your property.
Don't forget about the exterior! This blog only covered the interior items to be aware of, but the exterior needs just as much TLC. For our advice on how to properly prepare your home for photos, give us a call at 239.472.1950!
Video: Preparing For The Photoshoot