Southwest Florida Hurricane Ian Resources
Posted by Susan McCallion on Wednesday, October 5, 2022 at 11:27 AM
By Susan McCallion / October 5, 2022
Comment
We're working to gather links and information to help the Southwest Florida community in the aftermath of Hurricane Ian. If you would like to submit a resource for our page, please send information to [email protected].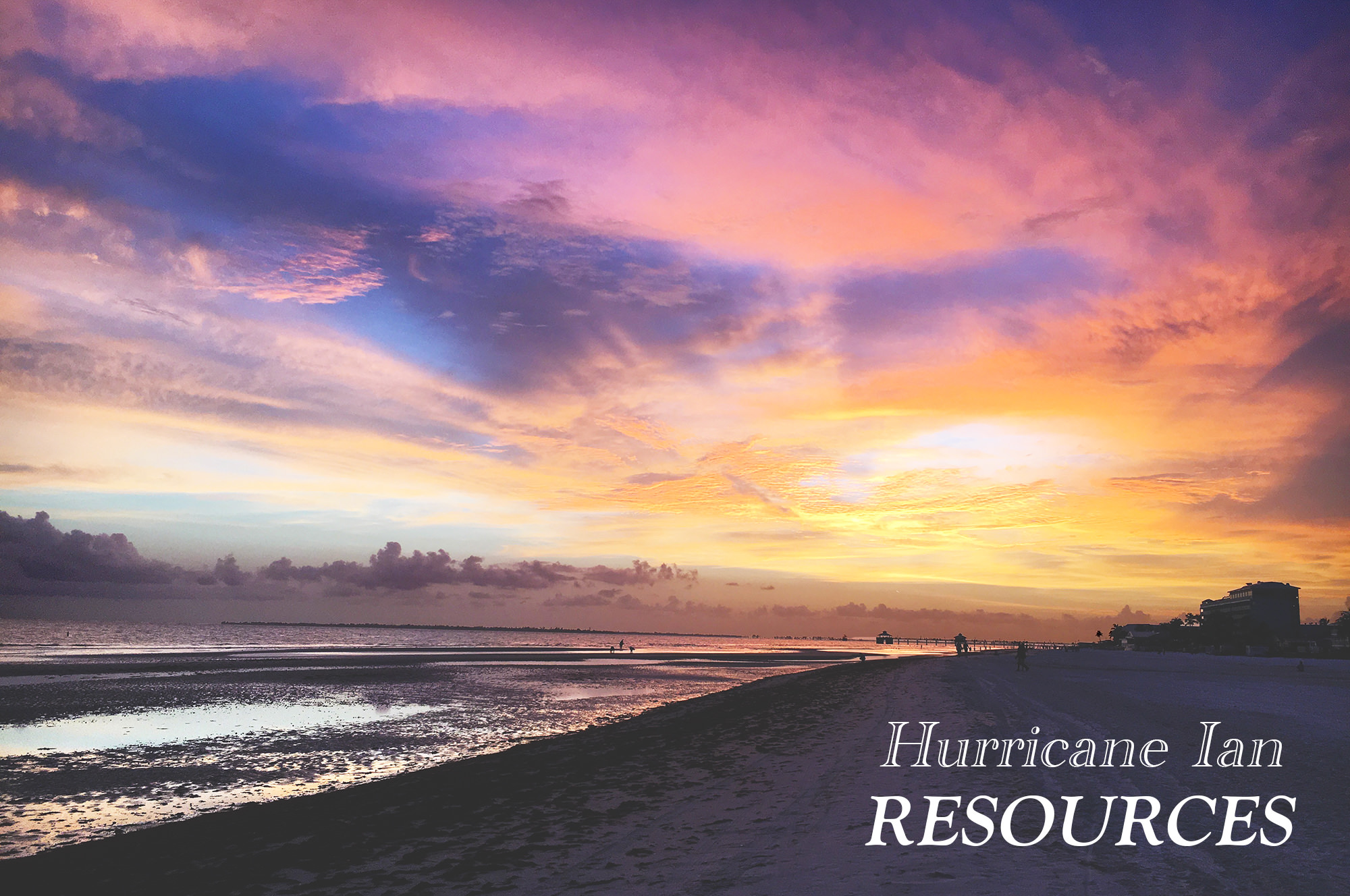 Quick Links
FEMA Assistance
Federal assistance is available to eligible individuals and families impacted by Hurricane Ian. Click here to view FEMA resources available including help for individuals and families.
Operation Blue Roof
FEMA has tasked the U.S. Army Corps of Engineers to assist eligible homeowners with temporary roof repairs via their Operation Blue Roof program.
Operation Blue Roof is a free service to homeowners in Lee and Charlotte Counties. With the program, temporary blue covers with fiber-reinforced sheeting are installed to help reduce further damage to property until permanent repairs can be made.
The initial sign-up period will end on Oct. 23. Residents impacted by Hurricane Ian can sign up at Blueroof.us.
Lee County Damage Assessments
Lee County has provided the following link that includes the initial damage assessment for residential properties in the county. Property information is being updated each day.
NOAA has provided updated Aerial Images of much of Southwest Florida post-Hurricane Ian.
Temporary Housing
This is a safe platform for SWFL residents to access rentals for temporary housing in Fort Myers, Cape Coral, Naples, Bonita Springs, and Marco Island. The website provides listings for housing whose properties have been vetted as reliable, safe, and clean. The listings are given by licensed Realtors® in the area. We urge the community to be careful when contacting listings from Craigslist and Facebook Marketplace as they may be fraudulent.
Click here to view the Hurricane Homes webpage.

FHA 203H Program
A local lender in SWFL shared information on the FHA 203H program. This program was created to help people who owned or rented in a new Federal Disaster area where their home is currently not livable.
Why would someone want to buy a home right after they lost the home they lived in? It's hard to find temporary housing right now. Buying a home, even if for a short period of time in a location that is not the same as their previous location, could be more beneficial than the alternatives.
If you'd like more information on this program, please reach out to use directly at [email protected].
Lee County Updates
Lee County has a list of resources linked on their Hurricane Ian Response webpage linked here. Here you can find information on local shelters and medical facilities. Follow the Lee County Government Facebook page for more updates on the recovery process.
Insurance Information
Below is a recording of an insurance information session held by Citizens Property Insurance. It has great insight into how the claims process works. Even if you do not have a policy with Citizens Property Insurance, this is very informative for all homeowners filing claims.
Click here to watch the video on YouTube.
The Association of Realtors has provided the following advice for filing insurance claims and dealing with contractors post-Ian.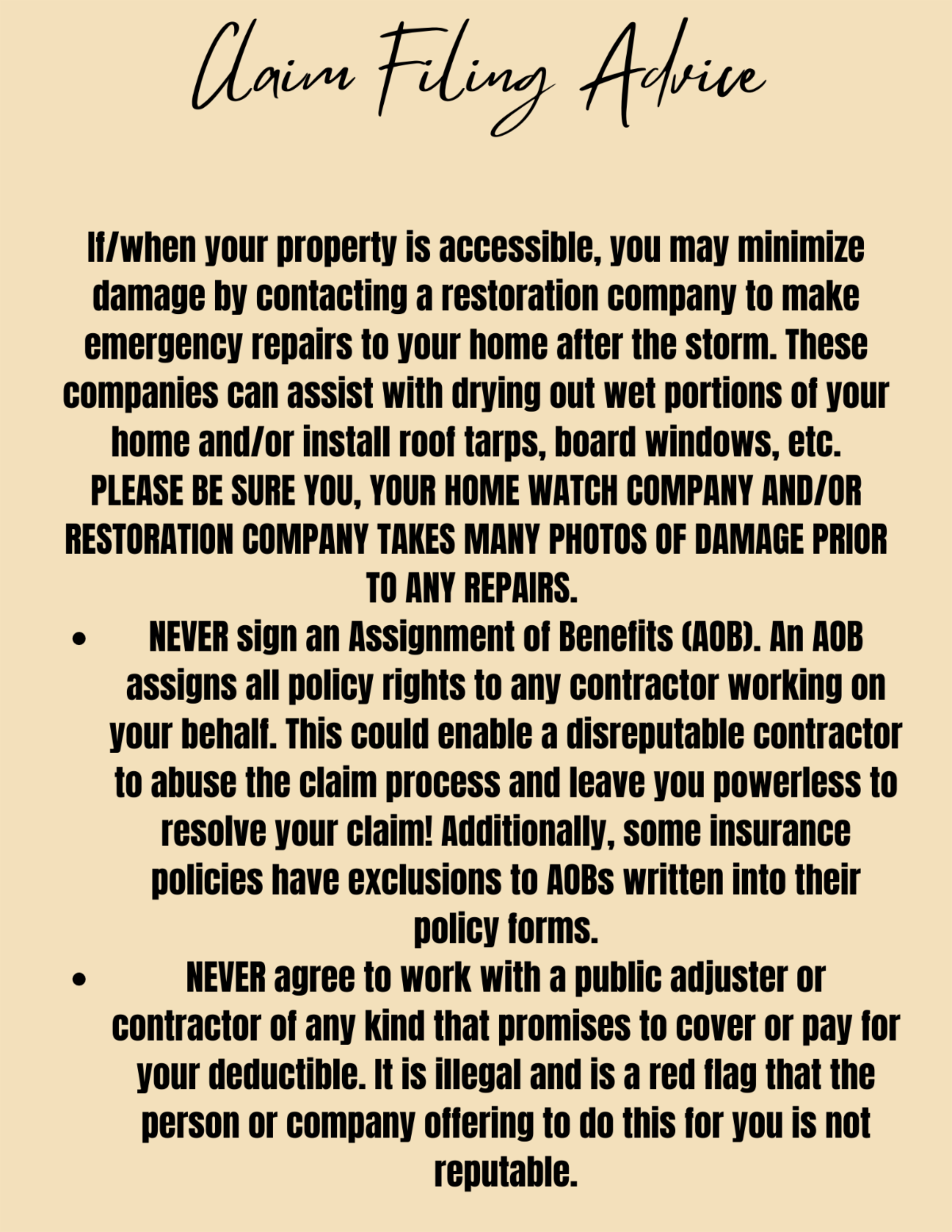 Contractor Info
Appraisers:
Robert Donovan - 239- 633-3636
Mark Gizzi - 239-898-5522
Matt Grub- 239-691-3465
Sharon Raimondi- 239-489-3881
Julie Valenti - 239-878-9531
Maxwell, Hendry & Simmons - 239-337-0555
Construction & Renovation:
Kennedy Construction - 239-472-8829
Bob Miller Renovations Plus - 239-872-3806
Kerry Cooper, Cooper Construction - 239-454-5699
Back Bay Contracting, Ian & Serena - 239-344-6883
Woodland Homes/Carolyn - 239-939-9242
Electrician:
Mabry Brothers - 239-482-1122
Sanibel Air & Electric - 239-472-3033
Technical Edge Inc - 239-826-1968
San Cap Electric - 239-472-1841
Plumbers:
Aztec Plumbing - 239-472-0667
San Cap Plumbing - 239-472-1101
Water Works - 239-574-2326
Roof Repair:
PRG Roofing - 239-237-2906
Affordable Roofing - 239-485-4968
Kelly Roofing - 239-228-3276
MWW Roofing - 239-567-3088
Cardinal Roofing - 239-939-4450
5 Starr Roofing - 239-800-5813
Crowther Roofing - 239-337-1300
Legacy Roofing Inc. - 239-433-4007
Local Business Updates
Many of our local businesses have posted on thier social media pages with information regarding Sanibel Island Hurricane Ian. We encourage you to check their social media accounts and websites for more information about re-openings. A list of Sanibel Non-Profit Organizations, Clubs & Memberships can be found on our website here.
Storm Debris Collection
Storm debris collection is already underway throughout the county. Storm debris is collected separately from household garbage. Public drop-off sites for vegetative and structural debris are also available. Click here for more information on debris removal. The following guidelines help you separate debris so that work crews can quickly and efficiently remove storm debris from your property.

Mental Health Resources
This has been an emotional rollercoaster for many of us. Mental health is a top priority that should not be pushed aside as "less important" in a tragic event such as this. Mental health resources for individuals and communities are available at MyFLFamilies.com/HurricaneIan or by calling the Disaster Distress Helpline at 800-985-5990.
Donations and Volunteering
United Way of Lee, Hendry, and Glades and the Southwest Florida Community Foundation (DBA Collaboratory) have started a disaster relief fund in the wake of Hurricane Ian. 100% of the SWFL Emergency Relief Fund will support local nonprofits and areas experiencing the most immediate needs. If you would like to make a donation, please click here.