Spring Training in Fort Myers
Posted by James McCallion on Tuesday, February 4, 2020 at 11:14 AM
By James McCallion / February 4, 2020
Comment
Did you know that Fort Myers is home to not one, but two Major League Baseball teams? The Minnesota Twins and Boston Red Sox!

It's probably no surprise that many Major League Baseball teams flock to Florida for warm weather and a sunny Spring Training facility. In fact, Florida is home to 15 MLB Spring Training facilities. Out of these, Fort Myers is the only area that hosts two major league teams, less than 6 miles apart from each other.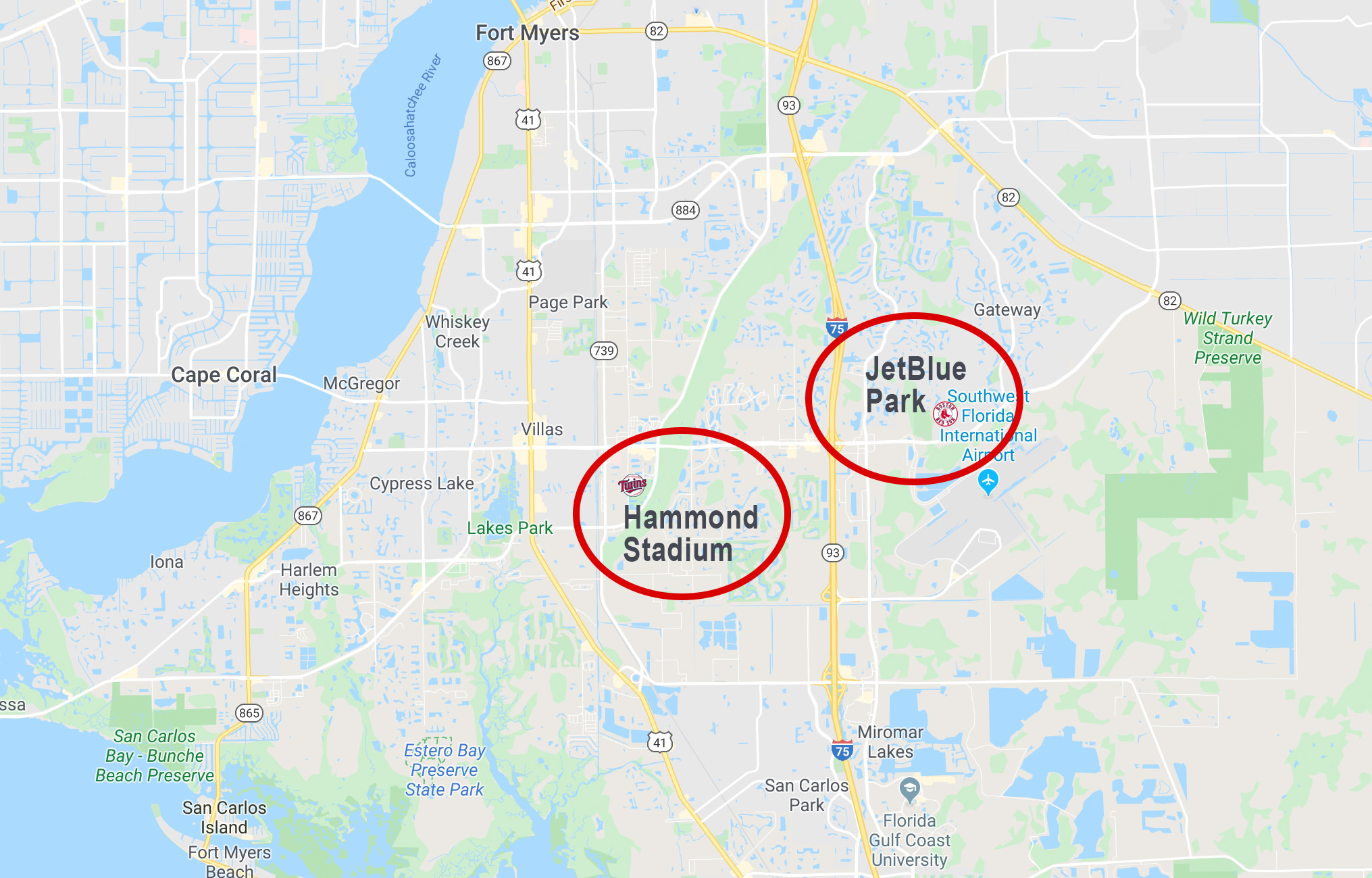 Keep Them Warm
Here in Fort Myers, we're proud to keep the Minnesota Twins and Boston Red Sox warm as they sharpen their skills for the regular season. Hammond Stadium, located in the CenturyLink Sports Complex on Six Mile Cypress Parkway, has been the Twins second home since 1991. Over the past few years, the stadium has undergone major renovations leading to expanded seatings, parking, office facilities, and a new playing field with a 360-degree boardwalk around the stadium.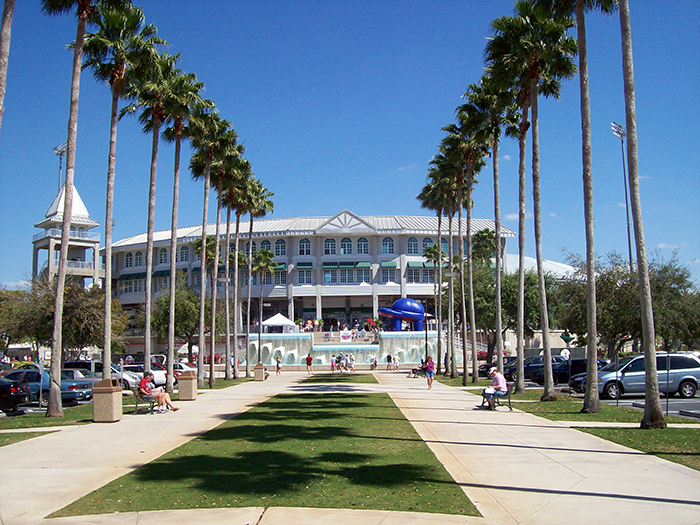 Our Own Green Monster
Across Interstate-75, JetBlue Park at Fenway South opened its doors to Red Sox fans in 2012. The stadium reflects characteristics of Boston's Fenway Park, including a "Green Monster" with seating on top and behind the wall, as well as a manual scoreboard. Unlike Boston however, Fenway South incorporates palm trees and other lush vegetation, native to Southwest Florida.

Before JetBlue Park opened in 2012, the City of Palms Park was home to the Boston Red Sox Spring Training from 1993-2011. The field still gets plenty of action today, serving as the home of Florida SouthWestern State College's baseball team since 2014. It's really a great place to watch a baseball game in the heart of Fort Myers.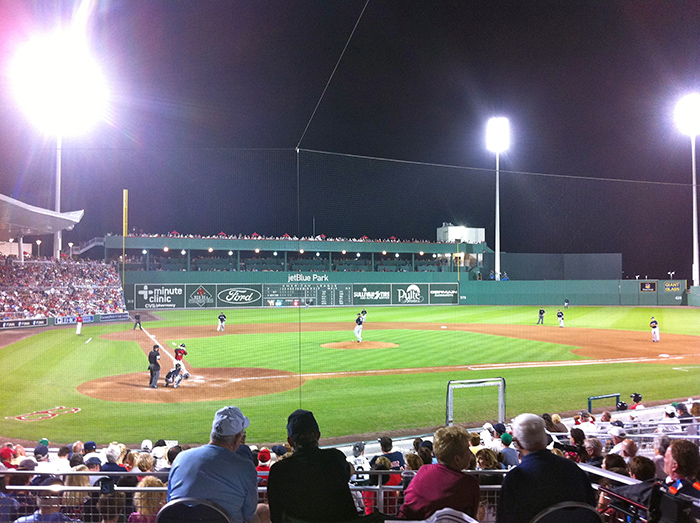 Root For The Home Team
Have you had the chance to catch a game? Both JetBlue Park and Hammond Stadium provide a fantastic family atmosphere and an opportunity to meet the players who are more relaxed and accessible during the Spring Training Season.

Which side of the highway do you root for? We love them both! … and get excited when we have the chance to see them live in action. Here's a photo from a game we got to experience between the Minnesota Twins and Miami Marlins. We had awesome dugout seats thanks to our friends at Bank of the Islands on Sanibel Island.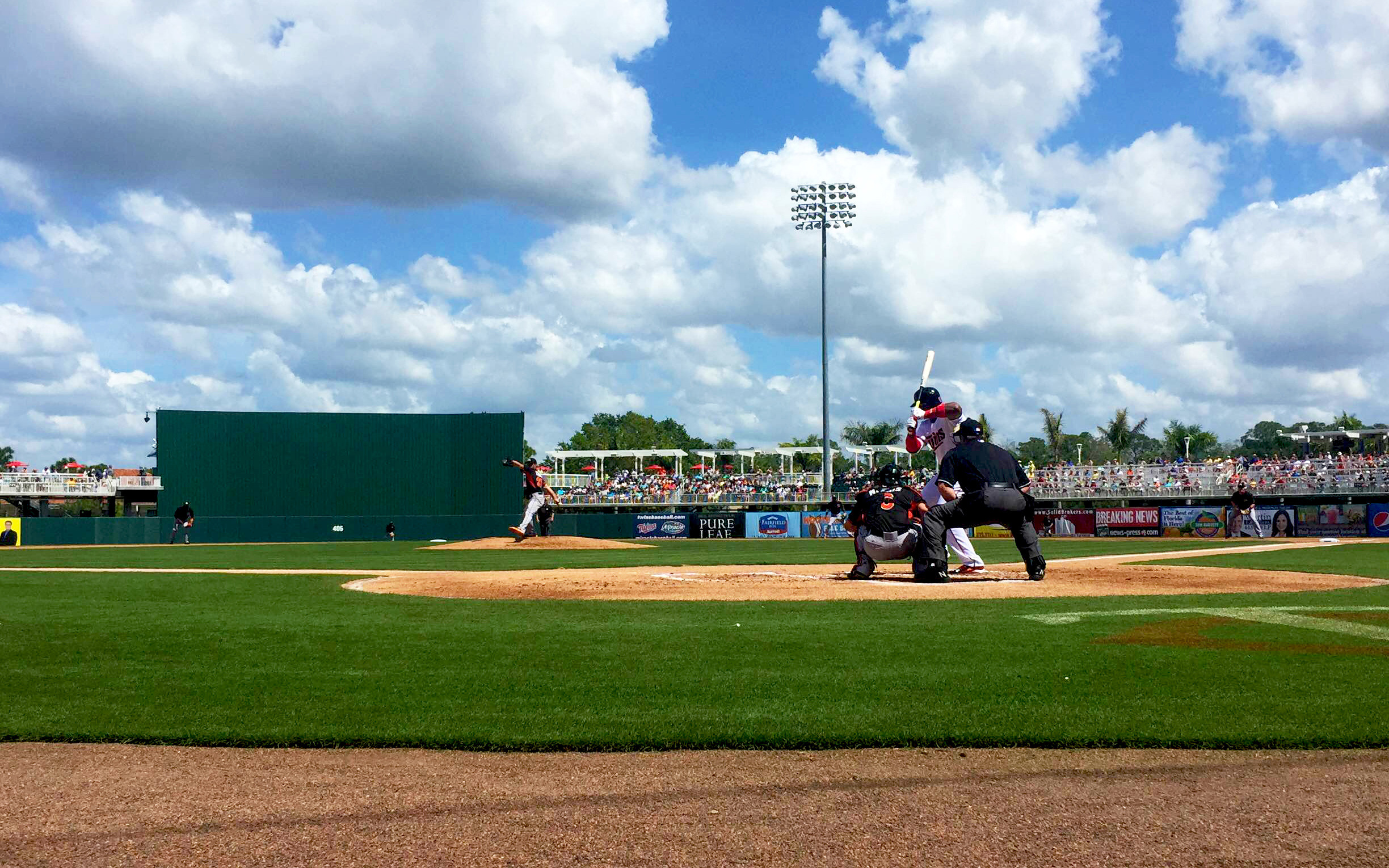 Get Your Tickets!
Minnesota Twins Spring Training: Click here for Tickets at Hammond Stadium
Boston Red Sox Spring Training: Click here for Tickets to Jetblue Park at Fenway South