Southwest Florida Shines on Inc. 5000 List
Posted by James McCallion on Thursday, October 26, 2023 at 3:03 PM
By James McCallion / October 26, 2023
Comment
The 2023 Inc. 5000 list highlights Southwest Florida's growing economy. In fact, sixteen local SWFL companies made this year's list.
What is the Inc. 5000 list?
Inc. Magazine's prestigious Inc. 5000 list includes the 5,000 fastest-growing private companies in the U.S. based on their revenue growth rate.

Lee County Business Diversity
While Lee County certainly relies on tourism as a key economic driver, we were surprised to see such diversity in the industries represented among the honored companies including construction, business products, financial services, logistics, consumer services, energy, health services, manufacturing, and software.
Below are the 16 local SWFL companies that made the 2023 Inc. 5000 list: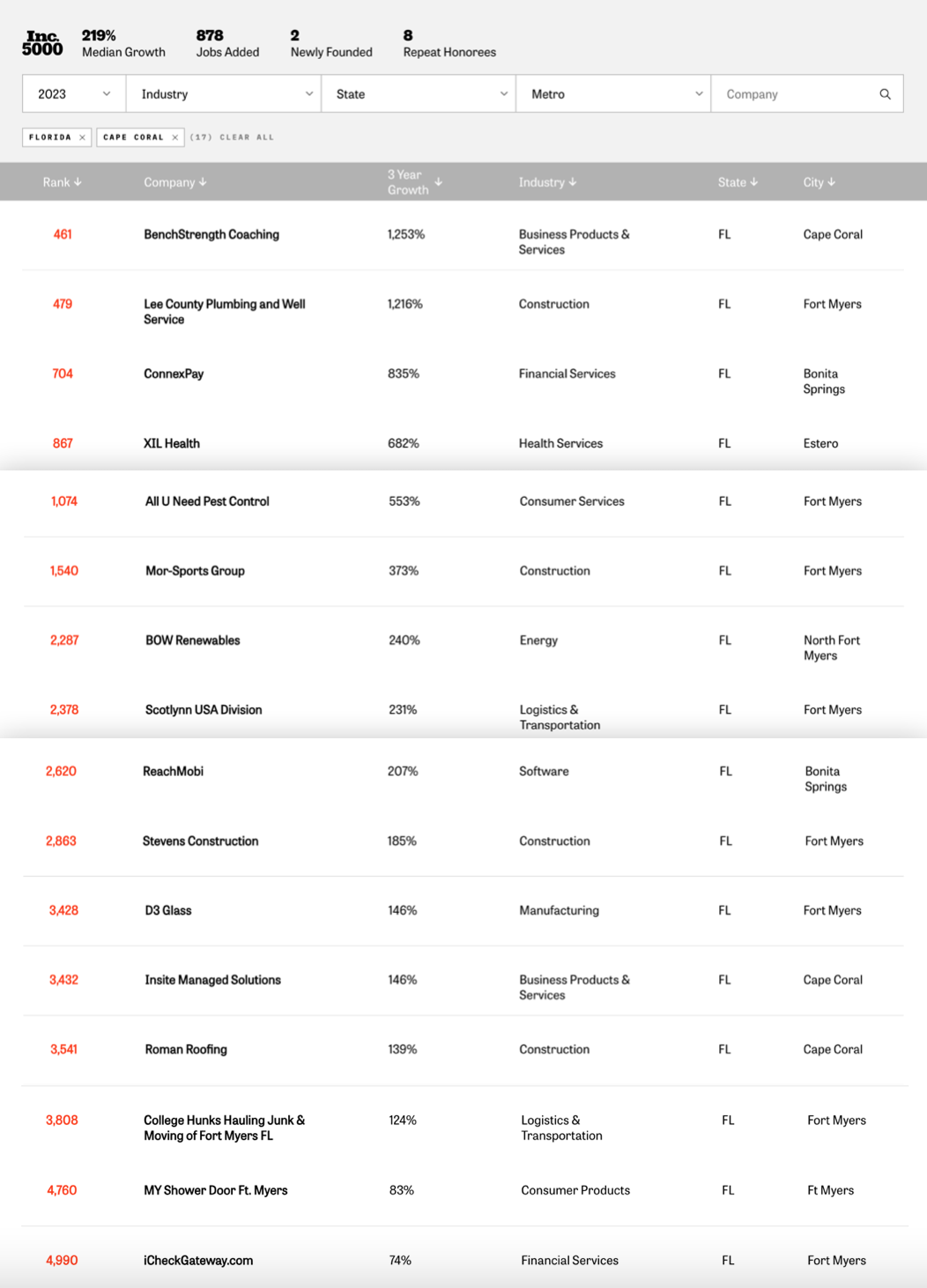 Widespread Achievement
Notice the geographic diversity of these top-performing companies as well. Their locations are spread across Fort Myers, Cape Coral, Bonita Springs, Estero, and North Fort Myers.
This achievement signifies Southwest Florida's emergence as a big player in the state's economy. Florida represented 448 total companies on the Inc. 5000 list this year. Our tri-county region (Lee, Collier, and Charlotte) accounted for 24 companies on the list, which surpassed several other regions in Florida. While not aiming to be the next major metropolitan hub like Tampa or Miami, Southwest Florida's position as a leading mid-sized region speaks volumes for our local economy.
No Small Feat
Earning a spot on the Inc. 5000 list is no small feat. Companies need at least $2 million in sales the previous year, and demonstrated impressive growth rates ranging from 74% to a staggering 1,253% over a three-year period.

This recognition on the Inc. 5000 list not only validates the region's economic potential but also highlights the steadfast support of our community in bolstering these organizations and shaping a prosperous future for Southwest Florida. Click here to check out the complete Inc. 5000 list for 2023.